Forget about Maria Sharapova's failed drugs test, the Brexit debate or Leo's Oscar triumph – the recent Google SERP changes are the hot-topic at UWP HQ.
We need to get out more – there's no denying it – but moving swiftly on…
Google's decision to remove ads from the right-hand side of the search results page, after their introduction 16 years ago, has caused quite a stir in the digital marketing community.
If you aren't sure what we mean by Google ads (AdWords) on the right-hand side, here's an image we used when we blogged about this back in the heady days of February 2013:-
So what I hear you say? What does this all actually mean for marketers and searchers? And how does it compare to previous changes on Google SERPs (search engine results pages)?
Well, as the roll-out now looks to be near completion worldwide, we thought it'd be helpful to run through the key information.
What's happened, and why now for the love of God!?!
So, right-hand-side ads are gone. Thanks for the memories guys.
Instead most Google SERPs now feature four ads above the organic results and another three at the bottom just for good measure.
Was it shock? Erm, not really.
Google have actually been testing four ads at the top of their SERPs for a number of years (since 2010 be precise).
However, these tests were limited to just a few keywords, whereas now you'll see four ads at the top for all "highly commercial queries" – ie any search that contains what Google regards as purchase intent.
Why now?
Google's Matt Lawson states the Google SERP changes were made to "improve the user experience on Google Search and to make that experience consistent across desktop, tablet and mobile".
Fair point – we noted how last year mobile search overtook desktop and, for mobile Google users, there are no right-hand ads on smartphones – making them redundant.
Lawson also claims the right-side ads simply weren't "useful", suggesting they weren't what consumers/searchers were looking for.
Steady on there Matt, not sure we'd agree with you on that one. A lot of our clients made a lot of money out of right-side ads.
The more sceptical among us have suggested possible financial motives behind the move – shame on you!
As the data starts to come through, it would appear so far there's been no significant change in costs per click as a result of Google's SERP changes.
However, as you'll read below, the squeeze on organic search is likely to result in an overall increase in paid clicks.
OK I get you – so who are the likely winners and losers?
The general consensus in the search marketing community is that PPC practitioners are going to be happy with the Google SERP changes.
Certainly, there are some useful benefits. For example, all ads can now use extensions – a clever way to increase an ad's "real estate". More imposing on the page, ads with extensions are more likely to get clicks.
See below for an example of an ad we've written for one of our clients – the selling points towards the bottom, the address and the phone number are all extensions designed to bulk up our ad and increase interest / relevance to the user:-
We'd argue the ads also appear even more "native" these days. Given many searchers already struggle to tell the difference between organic and paid results, you can expect to see an increase in traffic for businesses in the top four positions for various keywords.
Indeed, we've found that click through rates (the proportion of people who click on your ad) have shot up for a lot of ads in positions three and four.
And we're not the only ones – Wordsteam claim on average their clients in position four saw a 15% rise in CTR, while this figure doubled for position three.
Marketers using Google Shopping should be pleased too. Those ads will be the only feature on the top right of the SERP other than the Knowledge Graph.
Not all paid advertisers have won though. Ads that were appearing in positions eight to 11 have disappeared entirely from the SERP. Those in positions five to seven are also more than likely to generate fewer clicks at the bottom of the page.
The big losers? Well, not everyone at the top of the organic rankings is celebrating the Google SERP changes.
Search guru Larry Kim pointed to the example of a commercial search results page with four ads and eight Shopping results. That now leaves just eight percent of the area above the fold for organic results.
I pulled up the below example – the mixture of ads and Google Places results means the natural or organic listings are hidden below the fold:-
SEO pros are, however, increasingly hardened to this sort of thing. Google SERP changes have been squeezing organic listings for years – and some have had a bigger impact that last month's update.
How does it compare to previous Google SERP changes?
For many years the Google SERP page was a place of peace and tranquillity. Stillness reigned.
Well, not exactly. In the early noughties we saw a lot of "Google dancing", where rankings were notoriously volatile.
But, in terms of appearance, the SERP remained pretty stable until May 2007 – the dawn of "Universal Search".
This was big for SEO marketers. For the first time, organic search results were integrated with News, Video, Images and Local results, dramatically changing the page layout and user behaviour.
Two years later it was the turn of real-time search. Twitter feeds, Google News and newly-indexed content featured on the SERP, and their use has been gathering pace since.
Although organically generated, the arrival of Maps results on the SERP in 2010 pushed the original organic listings much further down than the fourth ad has done. This  was followed two years later by the aforementioned Knowledge Graph.
The Knowledge Graph has become a big feature on the SERP and is being iterated and improved all the time.
We've seen Authorship come and go. We've seen organic sitelinks expand, then shrink. We've seen Google Suggest burst onto the scene. Don't forget Instant Answers – where you get what you are looking for – or at least a glimpse of it – without even needing to click.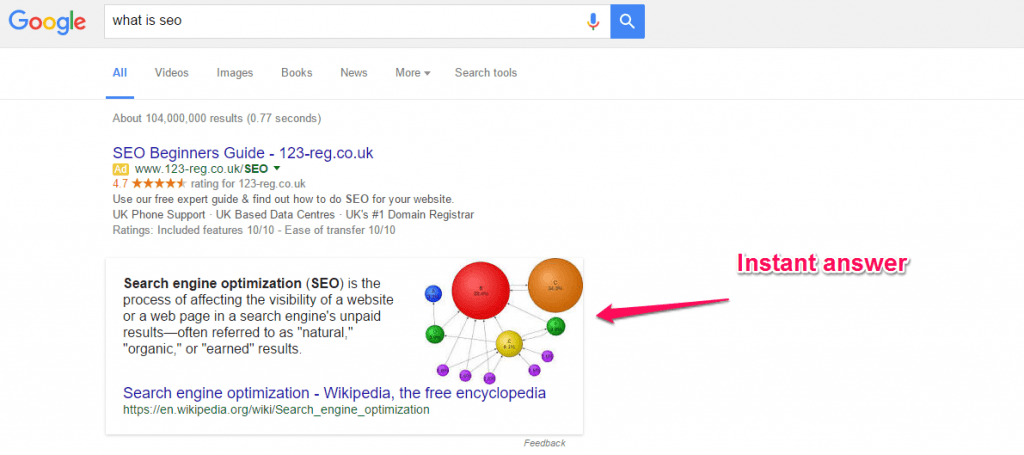 You probably get it by now. The Google SERP is essentially in constant flux.
Indeed, the SERP will continue to change – and often these changes are so iterative that some of you won't even notice.
However, there will always be a marketing impact, small or large, on the back of these shake-ups, so it's worth keeping an eye on them and considering what might be the next Google SERP change.
What's next for the Google SERP?
Many commentators suggest 2016 is the year of video, and we're expecting to see some form of in-SERP video advertising features in order to compete with Google's nemeses, Facebook, and Bing (who already offer video options to advertisers).
Aside from that, we reckon Google might want to provide organic search with some degree of protection, if just to avoid parallels with Baidu (China's largest search engine).
Baidu direct users to their paid results, telling them these companies are vetted and therefore more trustworthy, whereas organic search is automated and unverified.
Google's reputation – on the other hand – relies on the strength of its organic search and limiting it any further in favour of PPC profits may be widely frowned upon.
Last year's deal with Twitter marked the arrival of indexed Tweets on mass. Could we see similar deals in the pipeline?
There's certainly a strong likelihood. Jayson DeMers reckons we may even see a separate "social" section alongside the other SERP tabs.
Tech development is also going to be a driver of SERP change. We're expecting to see apps dominate mobile browsing for the foreseeable future and their SERP appearance / indexing is important for Google to manage.
And how about virtual reality? Deloitte predict it could be a billion dollar industry by the end of the year. How is the SERP going to look through your Oculus goggles?
Google SERP changes – concluding thoughts
It's still very early days since the retirement of right-side ads.
However, it looks likely that it's likely to favour paid-search marketers more than those in organic search.
If you are a marketer, what should you be doing?
For starters, check in on your AdWords account. Make sure you're using ad extensions where relevant, and keep a close eye on the data as you move to the top or bottom of the page. Your click through rates – and spends – might well have changed quite dramatically.
Otherwise, just keep your finger on the pulse.
No one knows for certain what Google SERP changes are coming next, but being flexible in your strategies will put you in the best possible position going forwards.
If you are having any problems just give us a call. Failing that, good luck!