Creating a successful PR campaign is a great way to gain exposure for your business, increase leads – and hopefully boost sales.
We did just that for our client Honest Coffees. We created an interactive infographic, designed a PR campaign around it and got some serious results.
Our campaign got them coverage in both regional and national publications – including the Daily Mirror, Birmingham Mail, Yorkshire Post and WalesOnline to name a few.
So how did we do it? Read on to find out…
A successful campaign needs a unique angle
Creating a successful PR campaign depends on crafting engaging, relevant content.
We knew that if we wanted to get our client talked about, we'd need to come up with a relevant and interesting idea to pique the media's interest. And it definitely helps if it's never been done before!
We put our heads together and landed on the idea of making an interactive infographic comparing the numbers of pubs and coffee shops in 20 of the UK's biggest cities.
Here's the finished product – but how did we get there?
Step 1: Research, research, research
Once we'd had the idea, the next step was to gather our data.
We chose to focus on the UK's 20 most populated cities and set about finding out how many pubs and coffee shops are in each. We soon realised this was no easy task!
We spoke to Companies House, Thomson, the Local Data Company, Allegra Strategies, the Campaign For Real Ale, a number of councils, one or two newspapers and a few other sources.
It's important to be as accurate as possible with any facts and figures so we cross-referenced all our data, mining information from the Food Standards Agency, Pubs Galore, CAMRA's research agency CGA Strategy and the Coffee Guide to London.
We also used a number of individual articles to help with this process, including articles in the Telegraph, the Guardian, New Statesman, Retail Times and the Evening Standard.
It was a time-consuming process, complicated by issues like out-of-date figures, where exactly to draw geographical boundaries and what exactly qualifies as a pub or coffee shop – but we got there in the end!
Once we were satisfied our data was as accurate as it could possibly be, it was time to move on to the design process…
Step 2: Bringing the idea to life
Any piece of design work will almost certainly go through a number of iterations before it gets signed off, and this was no exception.
We tried two different versions – one an 'olde worlde' style, using vintage fonts, muted colours and a historic-looking map of the UK.
However, we also wanted something a bit simpler, brighter and more contemporary – and ended up with this:
We swapped the muted green for a vibrant turquoise, with bright red dots to make the cities leap off the map.
The general consensus was this version was a little more sleek and stylish, fitting in better with the client's branding. So it got the nod.
Once we had the design down, we set to work bringing the infographic to life – adding the required functionality for it to change dynamically when users click on the city of their choice.
Step 3: Spreading the word
The final piece of the jigsaw when creating a successful PR campaign is getting the word out there with a killer press release.
If your press release misses the mark, the media won't bite. Here are some handy tips for getting your release right.
When choosing who to send your press release to, think about your target audience and select publications that are relevant to both them and your market.
We wrote a snappy press release highlighting the most attention-grabbing findings from our research with a link to the infographic on Honest Coffees' site, and sent it out to a list of relevant publications.
We got a fair bit of interest, with a number of publications asking for more information, quotes or explanations of where we found the data, which we happily provided.
One publication even asked us to crunch the numbers for a city we hadn't included – which again, we were more than happy to do.
Once we'd dealt with the enquiries, all we had left to do was sit back and wait. And it wasn't long until the media coverage started rolling in…result!
About 15-20 came in overall, but here's a few to give you an idea…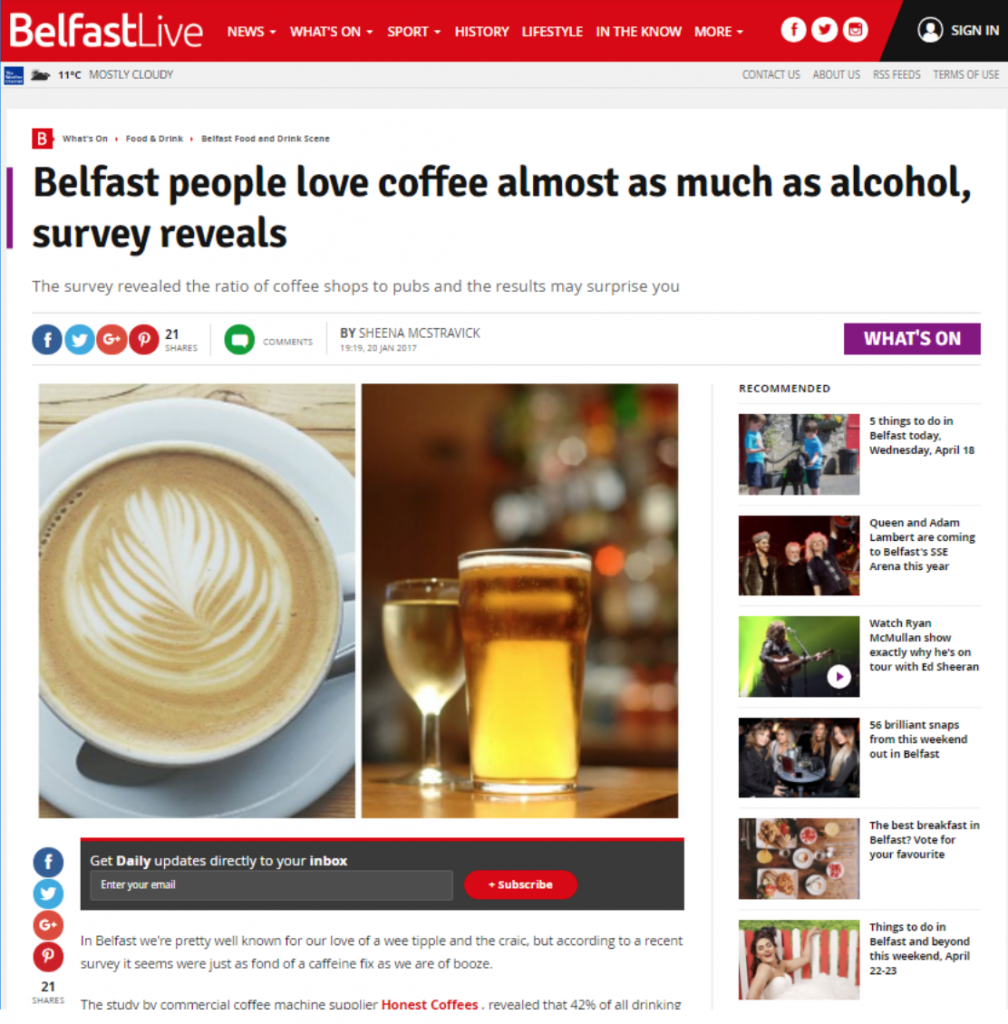 NewsyUK, Eat Out Magazine, Business News Wales and the Plymouth Herald were among a number of others to follow suit. Happy days!
Creating a successful PR campaign – a summary
A successful PR campaign can be a great way to give your business a boost, whether your aim is to build brand awareness, increase leads or improve SEO.
If you get it right, the results can be well worth the effort.
Still not sure? Have a look at some other PR work we carried out for a different client previously.
If you'd like to know more about creating a successful PR campaign, drop us a line – we'd love to chat.