As predicted, 2015 was a big year for the great and the good of digital marketing but what are our digital marketing predictions for 2016?
In the last 12 months, the importance of mobile was cemented with a brand new Google update, the infamous "Mobilegeddon". On top of that, as expected, content and social signals started to feed more actively into the ranking algorithm themselves.
As a digital marketing company, we know digital marketing is an ever-changing landscape, with new technologies, platforms and strategies constantly emerging.
As 2015 draws to a close, we're going to highlight our key digital marketing predictions for 2016 – so don't say we didn't warn you!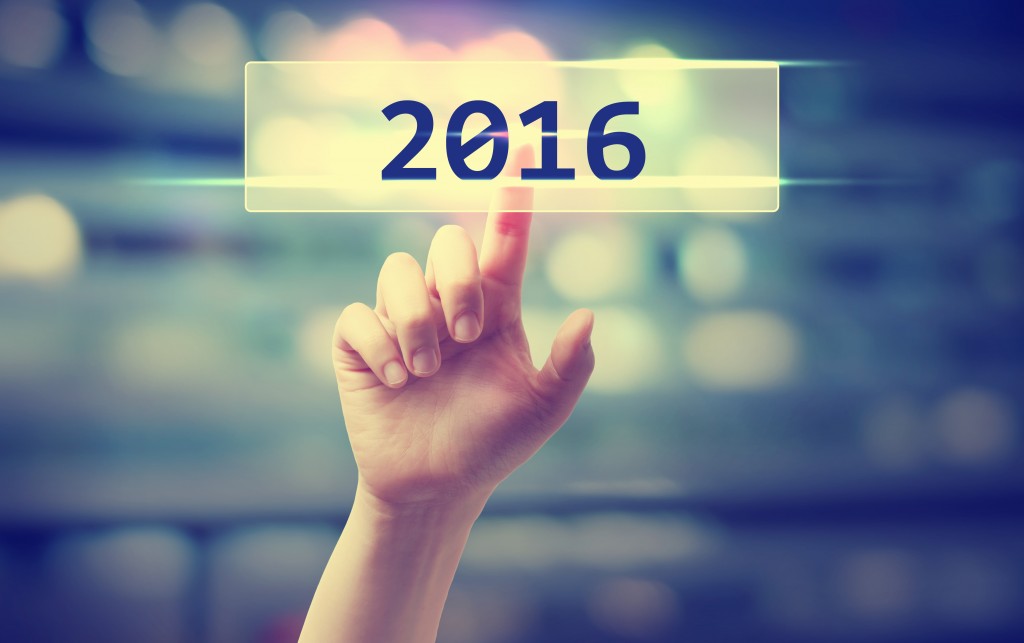 Video will become the primary form of online content
Unless you've been living under a rock, it's been hard to ignore the massive increase in online video streaming that 2015 has heralded.
Expect this trend to continue exponentially in 2016. Indeed, 74% of all internet traffic is predicted to be video streaming by 2017.
That's a lot, right? But where on the web are we going to be streaming all these videos?
Everywhere.
Get ready for the new Google SERP (search engine results page) featuring in-SERP video ads, something that Bing and Yahoo are also implementing.
Given that Google own YouTube, the possibilities for SERP and streaming service collaboration are limitless.
We've seen the rise of the video social media platform. Vine led the way, and now Snapchat and Periscope have followed with the introduction of live streaming, as well as the development of visually stunning 360? videos.
The way we think about content creation and video streaming is changing all the time with these new platforms, as well as the incorporation of increased video functionality on the more established ones.
Twitter has now introduced live video as part of its Twitter Cards initiative, but it's Facebook who are expected to dominate the video market in 2016.
Although some have queried their definition of a "view", Facebook are racking up 8 billion video views a day right now.
But what does this all mean for the humble marketer?
Well, 96% of consumers find videos helpful when making purchasing decisions, while 77% of consumers consider companies that create online video as more engaged with customers.
Everyone's watching them – and valuing them. It's time to start making them!
PRO TIP: If you're uploading videos to your company YouTube channel, be sure to upload them to Facebook too.
Facebook has an autoplay feature and its algorithm prioritises videos to make up 30% of the newsfeed.
On the social behemoth, organic reach for native videos is about three times as high as it is for YouTube shares.
You thought mobile was big in 2015? That was just the start
We're coming to the end of the year in which mobile search traffic overtook desktop.
In fact, in the US, 51% of digital media time was spent on mobile devices compared to 42% on desktop.
The overwhelming use of mobile devices is going to create a changing online environment for marketers, as well as offer new opportunities.
We saw the Mobilegeddon update, and as expected, Google demonstrated a clear preference for mobile optimised sites.
In 2016, expect to see mobile optimised sites ranking below apps.
App indexing is already taking place. 40% of Android searches currently turn up app-indexed results, and we can expect this number to grow.
A mobile optimised site is great (and essential!) but an app can do everything that a website can – except in a more intuitive and accessible way.
While we don't expect apps to overtake websites in 2016, we expect to see significant adoption, not just among major brands, but even smaller businesses looking to make the most of the huge mobile market.
Crucially, despite the increase in both mobile traffic and usage time, only 12% of all online purchases in Europe were made through a mobile device.
This would suggest there are some massively limiting factors putting users off purchasing with a mobile device. Those who are able to remove these barriers, whether that be through an app or another solution, are likely to reap big rewards in terms of sales.
Starting to sound like an easy win?
It's not so straightforward. Brands, particularly those pumping out visual content, will need to consider how users can maximise their experiences without burning through all their mobile data allowance.
Expect mobile analytics and focus on ROI to be central to mobile strategies in 2016.
Additionally, search via digital assistants such as Siri and Cortana is only going to increase next year. The impact this will have on SEO is still to be fully realised.
PRO TIP: If you're not able to reach your audience through mobile search / display or your site isn't mobile optimised, you'll miss out as opposed to your competitors who are.
Given the rise in mobile usage and the fact that 80% of mobile time is spent in-app, it's time to think about your website and digital marketing strategy with a mobile-first approach.
New technologies and platforms will provide new opportunities
We briefly touched on the arrival of 360? video. But that's just the start of it.
2016 will see the arrival of the first consumer virtual reality headsets, the HTC Vive and the Oculus Rift.
These headsets offer an entire new medium for consuming visual content. And advertisers will be licking their lips at the prospect.
Given that Facebook own Oculus, expect to see plenty of integration with social platforms, video streaming sites and even messaging apps.
Big brands will be looking at the ability to tell 360? stories and creating powerful and personalised ad content, something that's likely to be a hit with the millennial market.
The Apple Watch came to the fore in 2015, and this Christmas is likely to mark a tipping point in the adoption of wearable tech.
While the vast array of wearables on the market might be overwhelming, there are takeaways for marketers eyeing up this emerging force.
Those blogging or email marketing need to up their headline game. Given the small screen sizes of smart watches, you're going to have to capture your audience in just a few words.
Local marketing is going to become more important. Detailed online business listings, up-to-date opening hours and more are going to be vital – particularly with the use of, the already mentioned, digital assistants.
The rise of Periscope, Meerkat and, in particular, Snapchat in 2015 has been nothing short of meteoric. Many experts are tipping these platforms to become even bigger players in 2016.
Will we see more new platforms emerging? It's likely, yes.
However, what is arguably of greater interest to marketers is the increase in functionality on existing platforms.
Moving to quash the rise of the new video platforms (and Twitter's acquisition of Periscope), Facebook has begun to test live video streaming itself.
Social media platforms are going to have a huge impact on content marketing. Facebook's "Instant Articles" function allows you to publish directly onto the platform from your CMS e.g. WordPress.
LinkedIn has led the way with long-form posts up till now, but expect more competition in this area in 2016. Even Twitter is looking to offer users the chance to write more than 140 characters in one go.
PRO TIP: Social media marketing is becoming bigger and bigger as the platforms expand. The opportunities are there, including the ability to sell directly via buy buttons, so measuring ROI is becoming clearer.
Keep on top of your social media activity by closely monitoring analytics, growth and sales.
Digital marketing predictions for 2016 – a summary
We could write all day on the possibilities for 2016 – they're endless, which is what makes digital marketing so exciting, yet difficult to master effectively without direction and strategy.
Content will remain King, and, as ever, SEO will be in a state of flux as Google tweaks its algo to fit in with user behaviour and demand – as will the SERP experience.
However, it's the rise of video, mobile and new tech that look set to be the biggest game changers in the New Year.
If you'd like any more info on our digital marketing predictions for 2016, or would like to know how we can help you harness this changing environment, don't hesitate to get in touch.